In today's post I'm going to be recommending one of my favorite underrated books in a variety of genres I love to read. There are so many books out that there deserve more love and I'm here to give them a little bit of a spotlight!
Fantasy
Sweet Black Waves by Kristina Perez
"Two proud kingdoms stand on opposite shores, with only a bloody history between them.
As best friend and lady-in-waiting to the princess, Branwen is guided by two principles: devotion to her homeland and hatred for the raiders who killed her parents. When she unknowingly saves the life of her enemy, he awakens her ancient healing magic and opens her heart. Branwen begins to dream of peace, but the princess she serves is not so easily convinced. Fighting for what's right, even as her powers grow beyond her control, will set Branwen against both her best friend and the only man she's ever loved.
Inspired by the star-crossed tale of Tristan and Eseult, this is the story of the legend's true heroine: Branwen. For fans of Graceling and The Mists of Avalon, this is the first book of a lush fantasy trilogy about warring countries, family secrets, and forbidden romance."
This debut is pure MAGIC. The writing is gripping and the story is immersive. The characters are fantastic and that cliff hanger DESTROYED ME.
Full review can be found here
2. An Affair of Poisons by Addie Thorley
"After unwittingly helping her mother poison King Louis XIV, seventeen-year-old alchemist Mirabelle Monvoisin is forced to see her mother's Shadow Society in a horrifying new light: they're not heroes of the people, as they've always claimed to be, but murderers. Herself included. Mira tries to ease her guilt by brewing helpful curatives, but her hunger tonics and headache remedies cannot right past wrongs or save the dissenters her mother vows to purge.
Royal bastard Josse de Bourbon is more kitchen boy than fils de France. But when the Shadow Society assassinates the Sun King and half of the royal court, he must become the prince he was never meant to be in order to save his injured sisters and the petulant dauphin. Forced to hide in the sewers beneath the city, Josse's hope of reclaiming Paris seems impossible―until his path collides with Mirabelle's.
She's a deadly poisoner. He's a bastard prince. They are sworn enemies, yet they form a tenuous pact to unite the commoners and former nobility against the Shadow Society. But can a rebellion built on mistrust ever hope to succeed?"
This book deserves all the love! It's a magical historical fantasy with lovely characters and reads quickly. Addie Thorley is a talented writer and I love her use of gray characters.
Full review can be found here
Mystery/Thriller
The Cheerleaders by Kara Thomas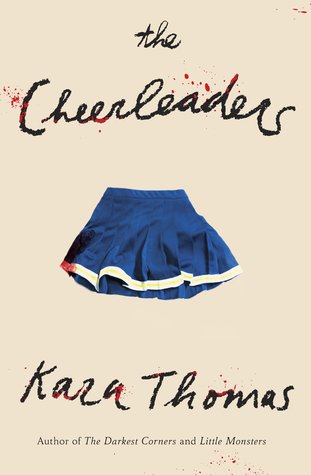 "There are no more cheerleaders in the town of Sunnybrook.
First there was the car accident—two girls gone after hitting a tree on a rainy night. Not long after, the murders happened. Those two girls were killed by the man next door. The police shot him, so no one will ever know why he did it. Monica's sister was the last cheerleader to die. After her suicide, Sunnybrook High disbanded the cheer squad. No one wanted to be reminded of the girls they lost.
That was five years ago. Now the faculty and students at Sunnybrook High want to remember the lost cheerleaders. But for Monica, it's not that easy. She just wants to forget. Only, Monica's world is starting to unravel. There are the letters in her stepdad's desk, an unearthed, years-old cell phone, a strange new friend at school. . . . Whatever happened five years ago isn't over. Some people in town know more than they're saying. And somehow Monica is at the center of it all.
There are no more cheerleaders in Sunnybrook, but that doesn't mean anyone else is safe. "
I am still blown away by this book. Kara Thomas has a talent for writing gripping mysteries that have a way of speeding up your heart while making your stomach drop. Her plotting is A M A Z I N G.
Full review can be found here
2. One of Us Is Lying by Karen M. McManus
"Pay close attention and you might solve this.
On Monday afternoon, five students at Bayview High walk into detention.
Bronwyn, the brain, is Yale-bound and never breaks a rule.
Addy, the beauty, is the picture-perfect homecoming princess.
Nate, the criminal, is already on probation for dealing.
Cooper, the athlete, is the all-star baseball pitcher.
And Simon, the outcast, is the creator of Bayview High's notorious gossip app.
Only, Simon never makes it out of that classroom. Before the end of detention, Simon's dead. And according to investigators, his death wasn't an accident. On Monday, he died. But on Tuesday, he'd planned to post juicy reveals about all four of his high-profile classmates, which makes all four of them suspects in his murder. Or are they the perfect patsies for a killer who's still on the loose?
Everyone has secrets, right? What really matters is how far you would go to protect them."
This book has been a long time favorite of mine! I've reread it too many times now. The story is gripping and it reads very quickly. I love the characters and need everyone to read this story!
No full review available
Contemporary
Shuffle, Repeat by Jen Klein
"June wants high school to end and real life to begin. Oliver is soaking up senior year's glory days. They could have coasted through high school, knowing about—but not really knowing—each other.
Except that their moms have arranged for Oliver to drive June to school. Every. Single. Day.
Suddenly these two opposites are fighting about music, life . . . pretty much everything. But love is unpredictable. When promises—and hearts—get broken, Oliver and June must figure out what really matters. And then fight for it."
This book is so underrated it hurts. This hate to love slow burn romance about two high school seniors is one of my favorites whenever I want to be hit in the feels. The characters are unique and there romantic development is written masterfully (and full of swoons).
Full review can be found here
2. Always Never Yours by Emily Wibberley and Austin Siegemund-Broka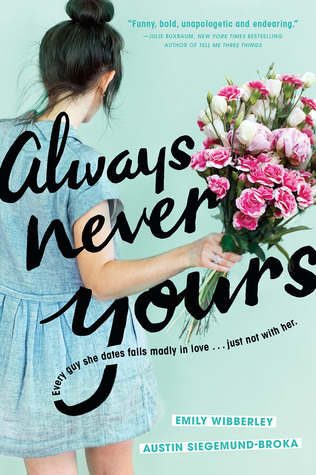 "Seventeen-year-old Megan Harper is about due for her next sweeping romance. It's inevitable—each of her relationships starts with the perfect guy and ends with him falling in love . . . with someone else. But instead of feeling sorry for herself, Megan focuses on pursuing her next fling, directing theater, and fulfilling her dream college's acting requirement in the smallest role possible.
So when she's cast as Juliet (yes, that Juliet) in her high school's production, it's a complete nightmare. Megan's not an actress, and she's used to being upstaged—both in and out of the theater. In fact, with her mom off in Texas and her dad remarried and on to baby #2 with his new wife, Megan worries that, just like her exes, her family is moving on without her.
Then she meets Owen Okita, an aspiring playwright inspired by Rosaline from Shakespeare's R+J. A character who, like Megan, knows a thing or two about short-lived relationships. Megan agrees to help Owen with his play in exchange for help catching the eye of a sexy stagehand/potential new boyfriend. Yet Megan finds herself growing closer to Owen, and wonders if he could be the Romeo she never expected.
In their fresh and funny debut, Emily Wibberly and Austin Siegemund-Broka break down the high school drama to find there's always room for familial love, romantic love, and—most importantly—self-love"
Have I talked your ear off about this book yet? I love this author duo's debut novel and can't get enough of their writing. The dynamics are amazing and the romance was adorable. I loved the characters' unique voices and all the humor in this book that was spot on.
Full review can be found here