Happy Tuesday! Today's theme for Top Ten Tuesday is Books On My Summer 2019 TBR. Top Ten Tuesday is a "meme" hosted by That Artsy Reader Girl, every week there's a new bookish theme and this week I'm listing, as said before:
How To Break a Boy by Laurie Devore
"Keep your enemies close, but your friends closer.
Olivia Clayton has mastered the art of tearing others down to stay on top. She and her best friend, Adrienne, rule their small southern town like all good mean girls do–through intimidation and manipulation.
After Olivia suffers a family tragedy and catches Adrienne sleeping with her boyfriend, Olivia is over it. She decides to make a change–but it's impossible to resist taking Adrienne down one last time. Up to her old tricks, Olivia convinces golden boy Whit DuRant to be her SAT tutor and her fake boyfriend. But when it starts to feel real, Whit gets caught up in Olivia and Adrienne's war.
Olivia may ruin everything she touches, but this time she won't go down without a fight–not if it means losing Whit.
And definitely not if it means losing what's left of herself."
2. Aurora Rising by Amie Kaufman and Jay Kristoff
"The year is 2380, and the graduating cadets of Aurora Academy are being assigned their first missions. Star pupil Tyler Jones is ready to recruit the squad of his dreams, but his own boneheaded heroism sees him stuck with the dregs nobody else in the Academy would touch…
A cocky diplomat with a black belt in sarcasm
A sociopath scientist with a fondness for shooting her bunkmates
A smart-ass techwiz with the galaxy's biggest chip on his shoulder
An alien warrior with anger management issues
A tomboy pilot who's totally not into him, in case you were wondering
And Ty's squad isn't even his biggest problem—that'd be Aurora Jie-Lin O'Malley, the girl he's just rescued from interdimensional space. Trapped in cryo-sleep for two centuries, Auri is a girl out of time and out of her depth. But she could be the catalyst that starts a war millions of years in the making, and Tyler's squad of losers, discipline-cases and misfits might just be the last hope for the entire galaxy."
3. Sightwitch by Susan Dennard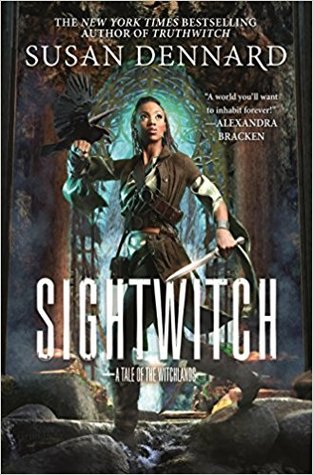 "Before Safi and Iseult battled a Bloodwitch…
Before Merik returned from the dead…
Ryber Fortiza was a Sightwitch Sister at a secluded convent, waiting to be called by her goddess into the depths of the mountain. There she would receive the gift of foretelling. But when that call never comes, Ryber finds herself the only Sister without the Sight.
Years pass and Ryber's misfit pain becomes a dull ache, until one day, Sisters who already possess the Sight are summoned into the mountain, never to return. Soon enough, Ryber is the only Sister left. Now, it is up to her to save her Sisters, though she does not have the Sight—and though she does not know what might await her inside the mountain.
On her journey underground, she encounters a young captain named Kullen Ikray, who has no memory of who he is or how he got there. Together, the two journey ever deeper in search of answers, their road filled with horrors, and what they find at the end of that road will alter the fate of the Witchlands forever.
Set a year before Truthwitch, Sightwitch is a companion novella that also serves as a set up to Bloodwitch, as well as an expansion of the Witchlands world."
4. The Antidote by Shelley Sackier
"Magic is not allowed, under any circumstances — even if it could save someone's life. Instead, there are herbal remedies and traditional techniques that have been painstakingly recorded in lieu of using the mystical arts. Fee knows this, so she keeps her magic a secret.
Except her best friend, Xavi, is deathly ill. He's also the crown prince. Saving him is important, not only for her, but for the entire kingdom.
Fee's desperation to save her friend means she can barely contain the magic inside her. And after the tiniest of slips, Fee is thrust into a dark and secretive world that is as alluring as it is dangerous.
If she gives in, it could mean she can save Xavi. But it also means that those who wish to snuff out magic might just snuff her out in the process."
5. Soul of Stars by Ashley Poston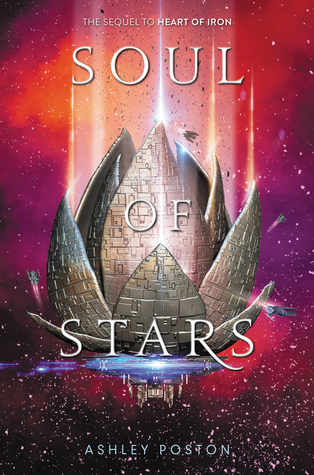 "Once, Ana was an orphaned space outlaw. Then she was the Empress of the Iron Kingdom. Now, thought dead by most of the galaxy after she escaped from the dark AI program called the HIVE, Ana is desperate for a way to save Di from the HIVE's evil clutches and take back her kingdom.
Ana's only option is to find Starbright, the one person who has hacked into the HIVE and lived to tell the tale. But when Ana's desperation costs the crew of the Dossier a terrible price, Ana and her friends are sent spiraling through the most perilous reaches of the Iron Kingdom to stop the true arbiter of evil in her world: an ancient world-ending deity called the Great Dark.
Their journey will take the sharp-witted pilot, Jax, to the home he never wanted to return to, and the dangerous fate he left behind. And when Robb finds out who Jax really is, he must contend with his own feelings for the boy he barely knows, and whether he truly belongs with this group of outcasts.
When facing the worst odds, can Ana and her crew of misfits find a way to stop the Great Dark once and for all?"
6. The Princess and The Fangirl by Ashley Poston
"The Prince and the Pauper gets a modern makeover in this adorable, witty, and heartwarming young adult novel set in the Geekerella universe by national bestselling author Ashley Poston.
Imogen Lovelace is an ordinary fangirl on an impossible mission: save her favorite character, Princess Amara, from being killed off from her favorite franchise, Starfield. The problem is, Jessica Stone—the actress who plays Princess Amara—wants nothing more than to leave the intense scrutiny of the fandom behind. If this year's ExcelsiCon isn't her last, she'll consider her career derailed.
When a case of mistaken identity throws look-a-likes Imogen and Jess together, they quickly become enemies. But when the script for the Starfield sequel leaks, and all signs point to Jess, she and Imogen must trade places to find the person responsible. That's easier said than done when the girls step into each other's shoes and discover new romantic possibilities, as well as the other side of intense fandom. As these "princesses" race to find the script-leaker, they must rescue themselves from their own expectations, and redefine what it means to live happily ever after."
7. Maybe This Time by Kasie West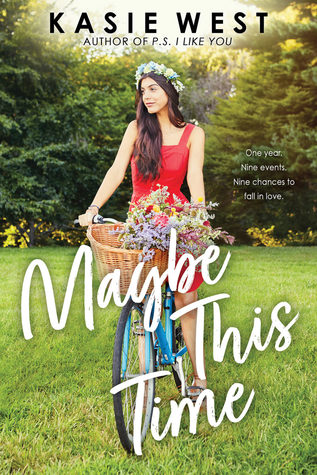 "One year. Nine events. Nine chances to . . . fall in love?
Weddings. Funerals. Barbecues. New Year's Eve parties. Name the occasion, and Sophie Evans will be there. Well, she has to be there. Sophie works for the local florist, so she can be found at every big event in her small hometown, arranging bouquets and managing family dramas.
Enter Andrew Hart. The son of the fancy new chef in town, Andrew is suddenly required to attend all the same events as Sophie. Entitled, arrogant, preppy Andrew. Sophie just wants to get her job done and finish up her sketches so she can apply to design school. But every time she turns around, there is Andrew, getting in her way and making her life more complicated. Until one day she wonders if maybe complicated isn't so bad after all . . .
Told over the course of one year and following Sophie from event to event, this delightful novel from master of romantic comedy Kasie West shows how love can blossom in unexpected places."
8. As Many Nows as I Can Get by Shana Youngdahl
"In one impulsive moment the summer before they leave for college, overachievers Scarlett and David plunge into an irresistible swirl of romance, particle physics, and questionable decisions. Told in non-linear, vivid first-person chapters, As Many Nows As I Can Get is the story of a grounded girl who's pulled into a lightning-strike romance with an electric-charged boy, and the enormity of the aftermath. Cerebral, accessible, bold, and unconventionally romantic, this is a powerful debut about grief, guilt, and reconciling who you think you need to be with the person you've been all along."
9. Wild Blue Wonder by Carlie Sorosiak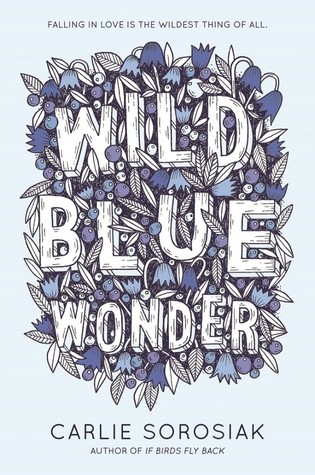 "Ask anyone in Winship, Maine, and they'll tell you the summer camp Quinn's family owns is a magical place. Paper wishes hang from the ceiling. Blueberries grow in the dead of winter. According to local legend, a sea monster even lurks off the coast. Mostly, there's just a feeling that something extraordinary could happen there.
Like Quinn falling in love with her best friend, Dylan.
After the accident, the magic drained from Quinn's life. Now Dylan is gone, the camp is a lonely place, and Quinn knows it's her fault.
But the new boy in town, Alexander, doesn't see her as the monster she believes herself to be. As Quinn lets herself open up again, she begins to understand the truth about love, loss, and monsters—real and imagined."
10. Stay Sweet by Siobhan Vivian
"Summer in Sand Lake isn't complete without a trip to Meade Creamery—the local ice cream stand founded in 1944 by Molly Meade who started making ice cream to cheer up her lovesick girlfriends while all the boys were away at war. Since then, the stand has been owned and managed exclusively by local girls, who inevitably become the best of friends. Seventeen-year-old Amelia and her best friend Cate have worked at the stand every summer for the past three years, and Amelia is "Head Girl" at the stand this summer. When Molly passes away before Amelia even has her first day in charge, Amelia isn't sure that the stand can go on. That is, until Molly's grandnephew Grady arrives and asks Amelia to stay on to help continue the business…but Grady's got some changes in mind…"
Summer is my favorite time of the year for reading. When else can I just laze around and read books in one sitting until my heart bursts? (the answer, by the way, is never)
What books are you looking forward to reading this summer? Let me know!